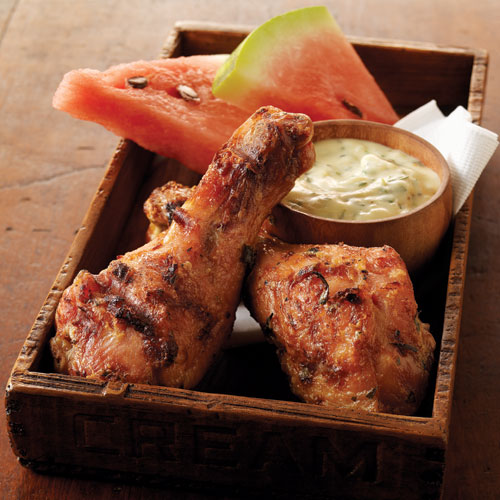 Prep time: 15 minutes
Grilling time: 30 to 40 minutes
Sauce
1 large yellow onion
2 medium garlic cloves
4 tablespoons unsalted butter, cut into 4 pieces
1/2 cup dry white wine
1 cup Miracle Whip(R) dressing
⅓ cup loosely packed, roughly chopped fresh tarragon
1/4 cup apple cider vinegar (5% acidity)
2 tablespoons fresh lemon juice
1 tablespoon Dijon mustard
1 tablespoon granulated sugar
1/2 teaspoon Texas Pete(R) hot sauce
1 teaspoon sea salt
1 teaspoon coarsely ground black pepper
16 chicken drumsticks, 3 to 4 ounces each
Vegetable oil
2 teaspoons kosher salt
1/2 teaspoon freshly ground black pepper
1. Mince the onion and garlic until they are almost a paste.
In a medium saucepan over medium heat, melt the butter.
Add the onion and garlic and cook until the mixture is
opaque, 2 to 3 minutes, stirring occasionally. Add the
white wine. Mix well and cook until half of the liquid has
evaporated, 2 to 3 minutes, stirring occasionally. Remove
the pan from the heat and let cool for about 5 minutes.
Whisk in the remaining sauce ingredients. Th e sauce
should have the consistency of ranch dressing. Cover and
refrigerate until about 1 hour before serving.
2. Prepare a two-zone fi re for medium heat (see pages 14-15).
Let the chicken sit at room temperature for 20 to 30
minutes before grilling. Lightly coat the chicken on all
sides with oil. Season evenly with the salt and pepper.
3. Brush the cooking grate clean. Grill the chicken over
indirect medium heat, with the lid closed as much
as possible, until the juices run clear and the meat is
opaque all the way to the bone, 30 to 40 minutes, turning
occasionally and swapping positions for even cooking.
4. During the last 5 to 10 minutes of cooking, lightly brush
the chicken with the sauce. Serve warm with more sauce
on the side. Refrigerate remaining sauce for up to 2 weeks.
Makes 4 to 6 servings